Traditional way of working has fundamentally changed forever
Have you ever searched for a 'commercial office space lease near you' to only find that the smallest available office space is 50m2, which is far more than you'd ever need for yourself or your small team?
What about if you're a larger company with a team of employees who are hesitant on returning to the CBD or their regular office post-covid and would prefer to still have their flexible WFH (work from home) arrangement in place, allowing them to optimise their work-life balance so that they can continue working from wherever they want?
Maybe you have a home-based business where you occasionally need to meet a client but you'd prefer to conduct those meetings in a professional meeting room environment instead of bringing them to your home or meeting up with them at a cafe nearby?
Or, you're simply sick of working out of cafes altogether! You might be ready to get serious about your business and get more out of your work day by working from a focused work environment where you can also have the opportunity to meet and network with other like-minded people who are on a similar business journey as yours and understand what you're going through.
This is where a shared or flexible workspace environment, such as a coworking space, can help entrepreneurs, employees and business owners flourish.
In this guide, we'll cover some of the following topics so you can make more informed decision on whether coworking is right for you and how you can get started today for very little cost.
Coworking Guide Outline
Working in a post-covid world
Covid has fundamentally changed the way in which we work these days, but coworking has been around for much longer than the pandemic.
Today we're all accustomed to new household terminology such as remote working, WFH (work from home), hybrid working, or telecommuting — which despite the efforts big businesses trying to lour employees back to the CBD — the shift to remote working will remain persistent well after the pandemic.
According to Australian Bureau of Statistics (ABS) report published in December 2021, more than 40 per cent of Australians regularly worked from home.
Bjorn Jarvis, Head of Labour Statistics at the ABS, says:
Prior to the pandemic, the percentage of employed people working from home on a regular basis had been steadily increasing by around a percentage point every two years. Our latest data for August 2021, as the Delta period impacts were deepening, are showing an 8.4 percentage point jump to 40.6 per cent.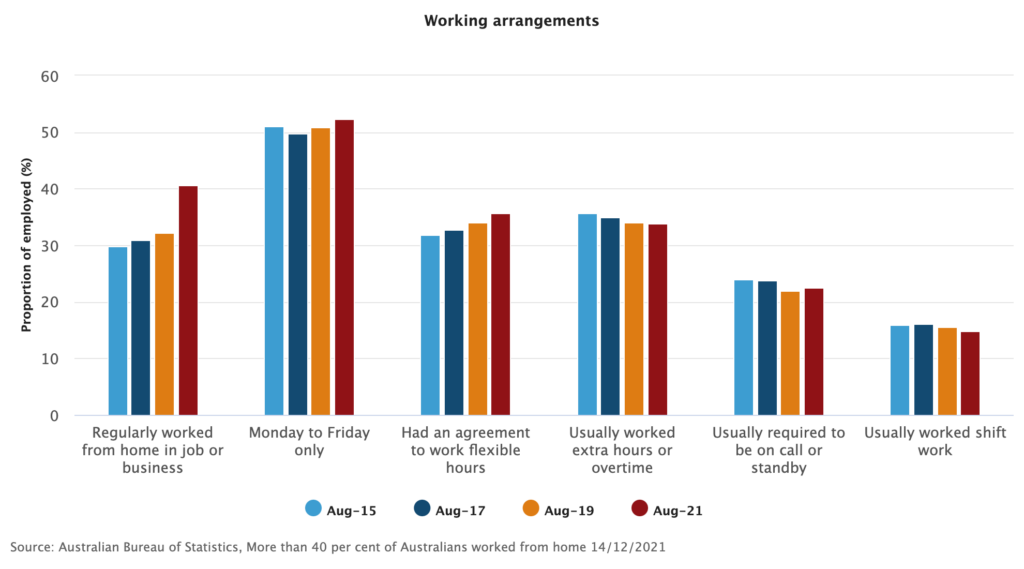 Surge in Remote Working job listings
If you jump over to Seek and search for Remote Working Jobs, you'll find over 10K+ job listings across Australia with catchy job description headlines such as "Sales Closer (WFH / 100% Remote)" as the new norm.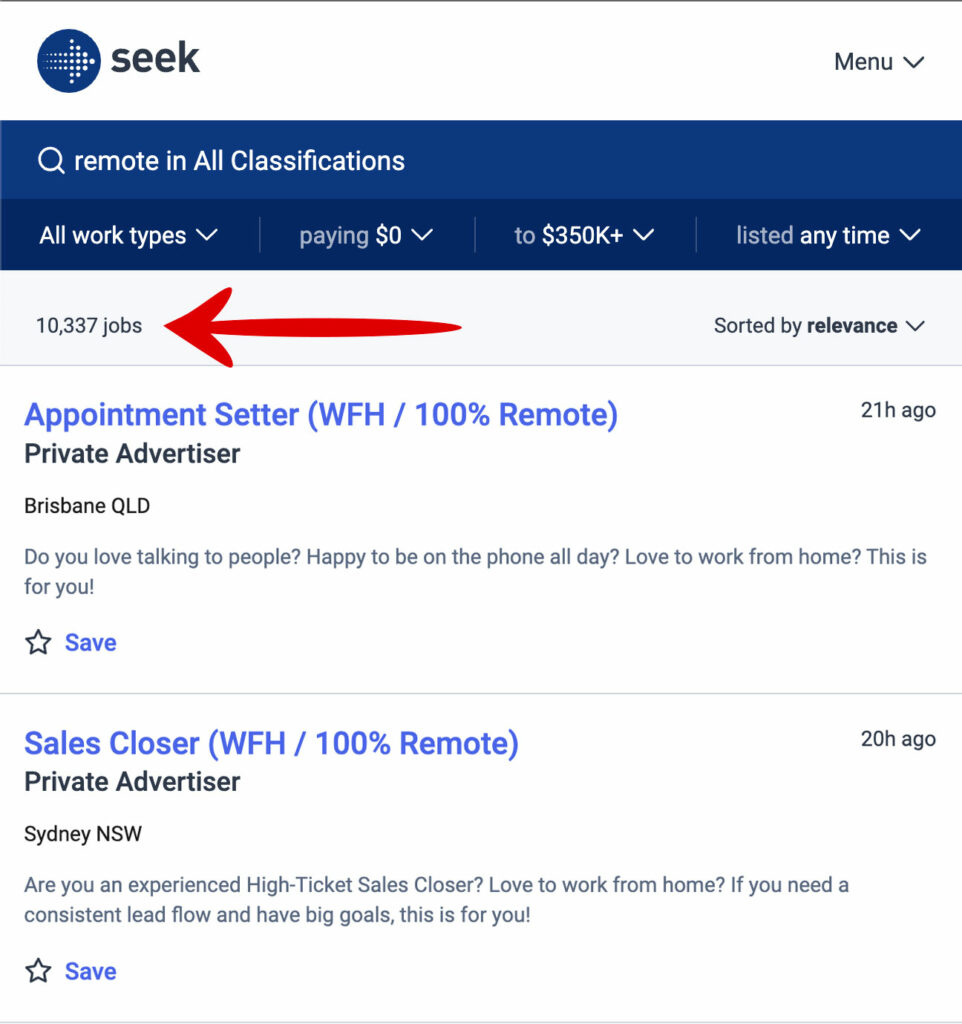 It's safe to say, remote working isn't going anywhere anytime soon, and unfortunately as a result of it, we're also seeing some big businesses with CBD locations coming to terms with the prospect of closing up shop.
There's never been a better time now in history to work the way you want, where you want and all while being able to connect with like-minded people and align your work around your lifestyle so that you feel more fulfilled and content with your work.
Joining a coworking space near you can foster a healthier work-life balance and an increase in work productivity. 
Wait, which is it? Coworking or Co-working?
If you've wondering whether Coworking has a hyphen in it, then someone has already settled that argument over at:
Spoiler alert: No hyphen, according to APStyle Book*
The reason being is because of the the subtle differences between "Co-working" — which assumes working in the same space with employees from the same company — whereas "Coworking", according to Wikipedia, is;
An arrangement in which several workers from different companies share an office space, allowing cost savings and convenience through the use of common infrastructures, such as equipment, utilities, and receptionist and custodial services, and in some cases refreshments and parcel acceptance services.
You can however use the term "co-worker" with a hyphen if you're referring to a person who works in the same organisation as you. 
* APStyle Book (The Associated Press Stylebook) is a popular choice for writers and editors across the world.
Where did Coworking originate from?
It's widely believed that the very first coworking space — as what we refer to coworking now — was invented in 2005 at San Francisco Coworking Space at a placed called Spiral Muse by a guy named Brad Neuberg, who at the time was unhappy with himself because he couldn't seem to combine the freedom and independence of working for himself along with the structure and community of working for other companies.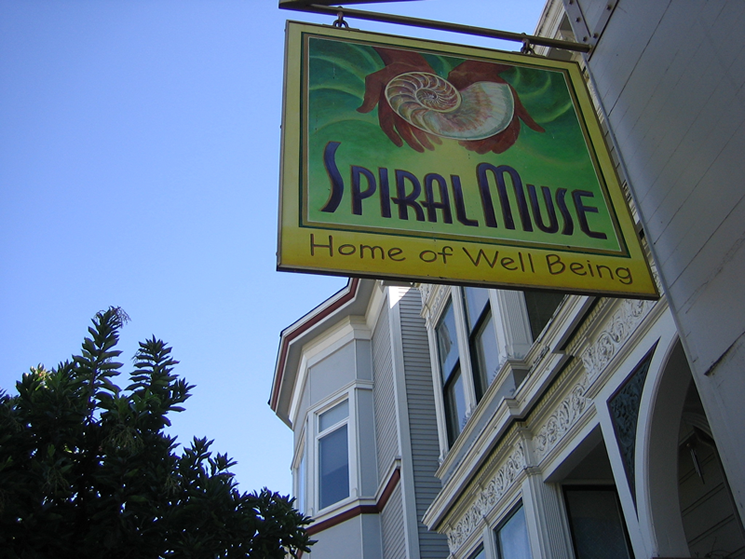 The story goes that Brad could have the Spiral Muse space for two days a week for $300 a month, with any extra money made above and beyond $300 he could keep for himself (although he had set up the space each of those days and then break everything down as he couldn't leave any permanent additions).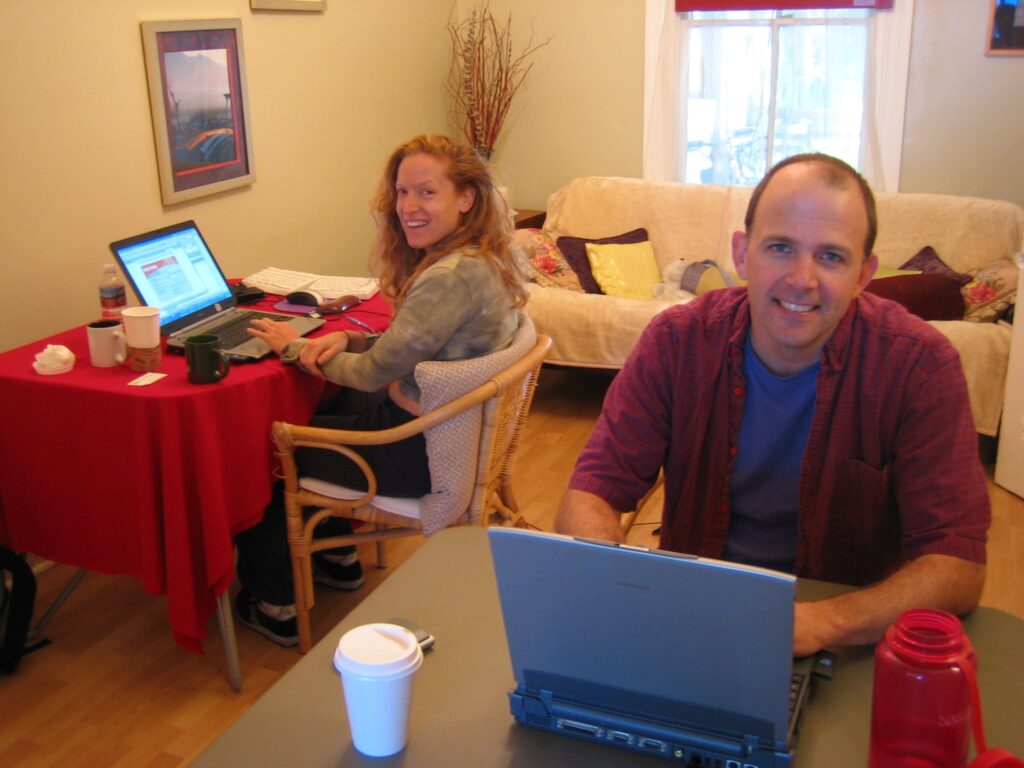 The official first ever coworker was a guy called Ray Baxter, who was an athlete, startup developer, and father who came to the space to work from.
A year later the Spiral Muse coworking space closed down and a few months later a second coworking space was opened up by Brand called the Hat Factory, with around 10 other volunteers and was run out of a out of a work/live loft.
Early video on coworking with by Hat Factory co-founders Jay Dedman and Ryanne Hodson
Without further ado, let's dive into the next section: What is Coworking?
Up next in Coworking Guide
Further Coworking Space reading