Managing Director of Waterman, Neville Waterman, said the Eastland Centre's January 2022 opening has been the company's most anticipated yet, with almost 50 per cent already pre-leased by businesses of all shapes and sizes.
"We've been inundated with client requests since we announced the Eastland expansion in 2020, and the pandemic forced businesses to rethink the traditional office to stay relevant," he said.
Mr Waterman said Eastland's recent $665 million transformation paved the way for a full-scale urban transformation in Maroondah.
"We're thrilled to be joining that new, exciting community and giving residents a vibrant, beautiful place to work – without the commute and without the isolation," he said.
"Nobody wants to return to the long, exhausting commutes that they endured before COVID-19. But we also know the extremely damaging effects of isolation and too much working from home on mental health."
"We're immensely proud of the centre we have created alongside ClarkeHopkinsClarke and Eastland, providing businesses, and their workers, a real and stunningly designed alternative."
Waterman Eastland is located in the heart of the shopping centre, an expansive 3,300 square-metre space with 37 private offices of all sizes, capacity for 400 people to be working from site, 70-plus hot desks, 7 meeting rooms including a boardroom and a cafe located right at the front door.
Waterman already operates centres in Chadstone, Narre Warren and Scoresby.

ADDITIONAL COMMENT
QIC Global Real Estate (QICGRE)
"We're thrilled to welcome Waterman Workspaces to Eastland," said Daryl Stubbings, Director of Australian Investment Management at QICGRE.
"By integrating flexible office space into Ringwood's rapidly growing public services and employment hub, we progress our long-held vision to create a vibrant Town Centre that clusters cultural, civic, hospitality and business amenity around the premium retail core that is Eastland."
Daryl Stubbings, Director of Australian Investment Management at QICGRE.
ClarkeHopkinsClarke Architects, lead design of Waterman's newest space.
ClarkeHopkinsClarke Architects led the design of Waterman's newest space, which aims to connect tenants to each other, the life of the retail precinct below, and neighbouring Mullum Mullum Creek.
Interiors Associate Michelle Cavicchiolo said: "We've created pathways that wind like the creek through spaces designed for connection, inspiration, focus and pause. There are adaptable offices for diverse tenants and lovely communal lounge, kitchen and breakout areas, where people can cross paths and get to know one another."
"The entire fit-out overlooks the atrium below, which floods it with beautiful natural light, views and generous volumes. We've used a palette of robust, sustainable materials and natural tones inspired by the flora, fauna and structural elements of the creek. Hence warm timbers, a preserved moss feature wall and terrazzo tiles reminiscent of the creek bed."
Bill Barakia, Architectural Associate in Retail and Mixed Use at ClarkeHopkinsClarke, said Waterman Eastland was an exercise in connection.
"It's an outward-focused space with extensive glazing and great sightlines," he said. "Even on a dull day, natural light illuminates the entire fit-out."
"Communal spaces open up generously to the life of the mall and create focal points for moments of intimacy. The kitchen is the heart of any office, and this one features an amazing, nine-metre-long terrazzo benchtop, which people gravitate to," he said.
"This design brings people together, and for me that's one of its highlights."

Janelle Arnold, director and occupational therapist at Kadia Occupational Therapy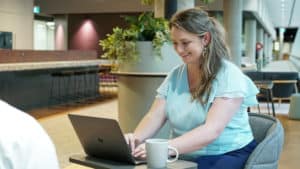 Kadia has operated out of Waterman centres since August this year and moved her business into the new Eastland centre in December.
"Starting, running and growing a business is a lonely space," Arnold said.
"But when I started using co-working spaces, I realised how working among a truly diverse community can give you the energy and the opportunity to keep moving, keep motivated, navigate and pivot your business without losing pace."
"We worked through all the alternatives after previously co-working in a small co-working site, and then privately renting a space," she said. "Moving to Waterman was the smartest business and service delivery decision we could make."
Arnold said moving to Waterman's flexible office environment enabled her business to meet and support clients within the context of their daily life; improved a sense of belonging within her organisation; opened new doors for the business and allowed it to scale up and expand. .
"When we set up our business, we outlaid close to $80,000. But since joining Waterman's larger co-working space, we've found the large majority of costs associated are now redundant. Not only would I have saved the large majority of this set up cost, I would have been able to funnel this resourcing into service growth and software."
"Taking a business from concept to a team of 16 in three years, two of which were in COVID-19 as an essential healthcare service, has been a challenge – but one that we've been able to overcome because of these co-working environments.
"I have really valued the incidental conversations, lunchtime seminars from other services, networking evenings and lunchtime chatters. It has meant that for the first time, I have been able to step out of my office and find someone who is in the same stages of business growth as I am – or someone who is just ahead of me. I wish I had these encounters from the very beginning."
"We noticed that the biggest impact to staff during the pandemic was the environment in which they worked. Great natural light, spaces that allowed for a range of learning styles, personalities and sensory needs was important. This was often missing at home, with home offices taking up what residual space was available. Coming back into an office space – this is more important than ever."
About Waterman | www.waterman.com.au
Waterman is a provider of premium flexible workspaces in Melbourne, Australia.
Waterman opened its first centre in July 2016 and to date provides flexible workspace across four locations, including the award-winning Caribbean Business Park in Scoresby, and Australia's biggest shopping centre, Chadstone.
Waterman's mission is to create healthy working environments that support the growth of business. To achieve this objective, the company focuses on building large functional spaces, creating collaborative communities and providing relevant support services to businesses of all sizes.
Media: Eddie@3phasemarketing.com.au | 0499 700 295